As discussed in a previous article clear and concise signs are necessary to maintain the fluidity of the signed bicycle network. If signs are unclear or missing it can cause a cyclist confusion and may cause such a person to run off the path.
Recently the city of Kitchener approved $6.1 million to implement 115km of bike lanes, a network of bike streets and bicycle paths over the next 20 years. The cycling master plan is not unlike Hamilton's Shifting Gears plan. Kitchener will need to ensure the network is well signed to ensure that their plan of "significantly increasing cycling traffic in the city."
There are a few spots in the downtown core that are missing some vital signs in the network. While there is a need for additional signs on the roadways to reassure cyclists that the roadway is a bike route, there is a greater need for signs that direct riders when the 'signed' route turns and changes direction.
1) Walnut at Jackson
According to the official bike map of the city, a signed bike route travels north on Walnut St S turning both east and west onto Jackson St E however there is no sign at the intersection stating this. There is a sign on Jackson stating the route turns south onto Walnut, but no sign on Walnut or on the western routing of Jackson St. Considering previously on Walnut a junction sign can be found pointing the destination 'downtown' when you continue north on Walnut, where to go now is a mystery.
Oddly the 'signed' route picks up at Mary and King. Though the map does not show this (and there is no sign at Walnut and King pointing the way either) there is a sign pointing the way from King St E onto Mary St. Another sign can be found directing the bike route from Mary St onto Barton St E.
2) King William / Rebecca at Mary
Although the map doesn't state that Mary St between King St E and Barton St E is a 'signed' bike route, there is both a sign on King directing cyclists onto Mary as well as a sign on Mary directing cyclists onto Barton . With both Rebecca and King William Streets listed on the map as signed bike routes it would stand to reason that there would be a junction sign at these intersections directing east on King William and west on Rebecca. There is no sign at either intersection, in either direction.
3) Rebecca at Catherine
There is a junction sign on Catherine directing cyclists to continue on Catherine to Gage Park or turn on Rebecca to Lloyd D. Jackson Square. There isn't a sign on Rebecca.
4) Catherine at King William
The reverse issue of the last one with no sign on Catherine guiding cyclists through the intersection to head to Gage Park and left to head to Dundurn Park. There is a sign for cyclists on King William.
5) Ferguson at King William / Rebecca
There are no signs on any of the streets in any direction.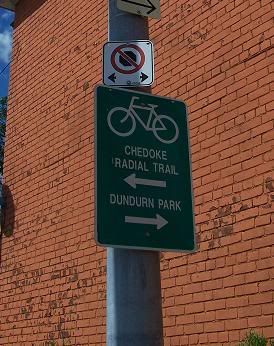 As I stated before there needs to be more consistant signs around the city. If you were to track a path starting at Jackson Square on King William there are no signs at King William and James to state that the signed bike route even begins. Taking the junction sign at Catherine into account one would gather that if continue on King William St you will somehow end up at Dundurn Castle. Certainly you would be advised to take a map with you or you'll never find it on your own. There are no signs to keep you on the path.
Here is the path required (following bike routes)to take to get to Dundurn Park from King William & James:
- East on King William St (no bike route sign stating start of bike route)
- Continue on King William St (signed junction sign)
- North on Mary St (no bike route junction sign / not on map as bike route)
- West on Barton St E (signed direction sign)
- Continue on Barton St W (no sign at the intersection but is 50m west of James St N)
- North on Locke St N (signed junction sign)
- West on Tecumseh St (no bike route direction sign)
- Arrive at Dundurn Park (signed bike route sign)