Metrolinx and GO Transit have released their environmental assessment of the Niagara rail corridor. The 100+ page document details the environmental impacts to the areas surrounding potential station and layover locations.
Three station locations are identified within the city of Hamilton, with one layover facility possible. The three stations earmarked are at James North, Confederation Station (Centennial Pkwy N) and Fifty Rd. Fruitland Road, which was previously a proposed site, was dropped from consideration.
The Fruitland site was previously recommended as a potential GO train station site prior to the consideration of the Confederation Station site. In view of the interest in having a station site to service East Hamilton residents, the Confederation station site is seen as a more central location to ridership base and is preferred over the Fruitland Road site.

James North Station
Many have mistakenly identified Liuna Station as the proposed location for the GO station on James St N. As identified in the report the former CN rail station, and current banquet hall, would not be retrofitted to become a rail station again. Metrolinx and GO Transit plan on constructing a new station on the western side of James. The new station would have enough parking for 230 cars, feature a kiss and ride and three bus bays.
The station would be used in conjunction to the Hamilton GO Centre, which would still have rush hour train service as well as the same bus service.
Confederation Station
Replacement proposed station from Fruitland, the station is named after neighbouring Confederation Park. This was done to avoid confusion as there is already a station named Centennial Station on the Stouffvile line. This new station would be on the north side of the tracks and the western side of Centennial Pkwy N. The initial plan would have 425 parking spaces, a kiss and ride and two bus bays.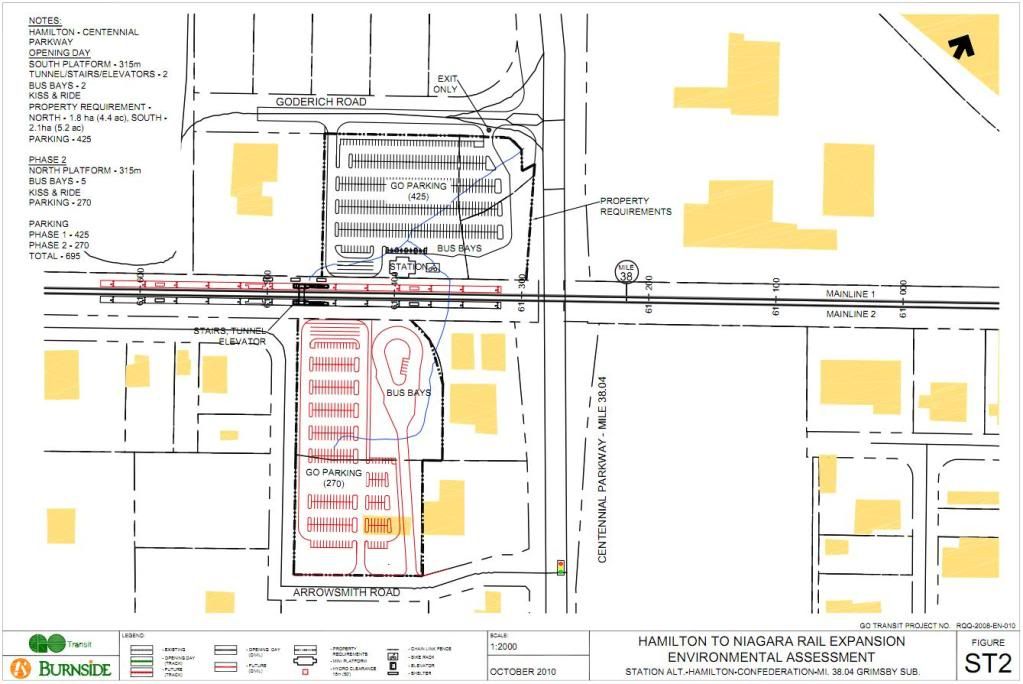 Potential Confederation GO Station
These two stations would be the initial stations for the city and the line. The Fifty Road station would be added as a future station as ridership warranted. Since the last report the planned station on the west side of Fifty Road was suggested to be shifted to the east side of the road. As this land was identified as prime location for commercial development. This information has resulted in the site being considered as a potential 'future' site. Additionally the City of Hamilton is studying the feasibility of extending the proposed LRT B-Line to this location for a potential LRT/GO station.
While the process is still in the early stages, the completion of the environmental assessment is a great step to making the project a reality. The next step comes from securing the necessary funding from the province to build the system. Metrolinx hopes to have the line up and running by 2015.
Let's GO!