Traffic in Hamilton and Burlington was a mess this afternoon after the raised bucked of a dump truck travelling on the Toronto-bound Skyway bridge collided with the bridge. The collision closed the eastbound lanes of the expressway, forcing all traffic onto local streets.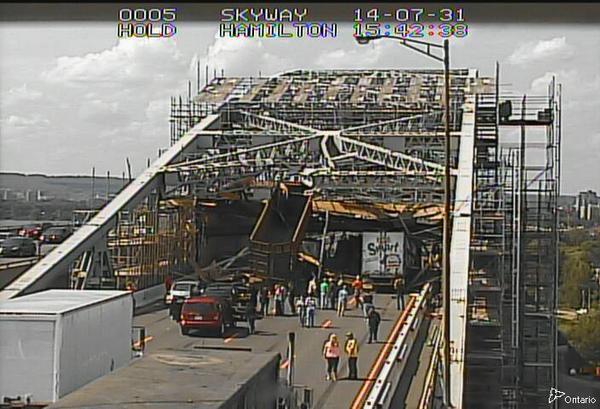 The Ontario Provincial Police released a statement late on Thursday night.
As a result of the collision, the bridge structure sustained significant damage. Three other vehicles, a transport truck and two cars were also damaged subsequent to the initial collision. All Toronto-bound lanes of the bridge are closed. Please expect significant delays.
The Ministry of Transportation have dispatched structural engineers to the scene to assess the structural integrity of the bridge. The Toronto bound lanes of the Skyway will remain closed until the MTO structural engineers determine that the highway is safe to reopen. The MTO has state that the Toronto-bound QEW will remain closed until at least the weekend.