Hurricanes Look to Win it All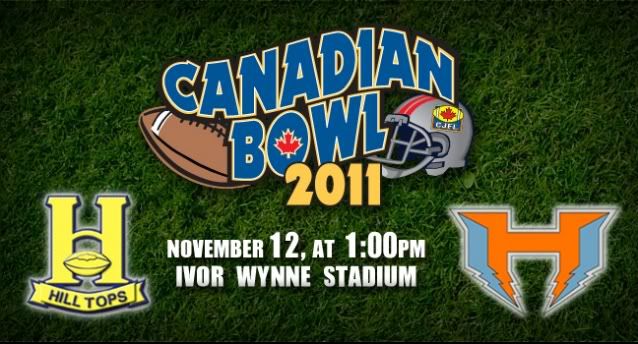 It's been a long time coming. The Hurricanes haven't been here since 1993 and haven't won it all since 1972. Last year Hamilton came within one game of making it here. 2011 will see the Hurricanes not only gaining a berth in the national championship game, but also hosting the final for the first time since 1981.
Hamilton will play host to the Canadian Bowl, the "Grey Cup" of the Canadian Junior Football League, this Saturday afternoon at 1pm from Ivor Wynne Stadium.
2011 has been a stellar season for Hamilton. The Hurricanes went nearly undefeated through the entire season, losing only once. The AKO Fratmen of Windsor, whom would be defeated by Hamilton for the OFC Championship, was the only team to best the Hurricanes, and that wasn't until the final game of the regular season.
Hamilton went 7-1 through the 2011 season and went a perfect 4-0 at home. Saskatoon, whom the Hurricanes will meet in the Canadian Bowl this weekend, also finished the regular season with a record of 7-1 and went a perfect 4-0 away from home. With Hamilton perfect at home and Saskatoon perfect on the road, Saturday's championship game should prove to be intense.
Coincidentally both teams also lost their final regular season game.
Saskatoon returns to the Canadian Bowl as defending champions, having won the championship last year at home, defeating the Vancouver Island Raiders. The teams looks to win back-to-back championships and their fifteenth national title.
The Hamilton Hurricanes look to win the national crown this year having won back-to-back OFC Championships this year and last. Hamilton was eliminated from the playoffs last year when they were defeated by Vancouver in the semi-final.
For anyone planning to attend the game, general admission is $20 (children 13 & under are free). Tickets can be purchased at TigerTown Sports in Limeridge Mall or The TigerTown Store in downtown Hamilton. Tickets are also available on gameday at the gate.
The game will be broadcast live on Cable 14.