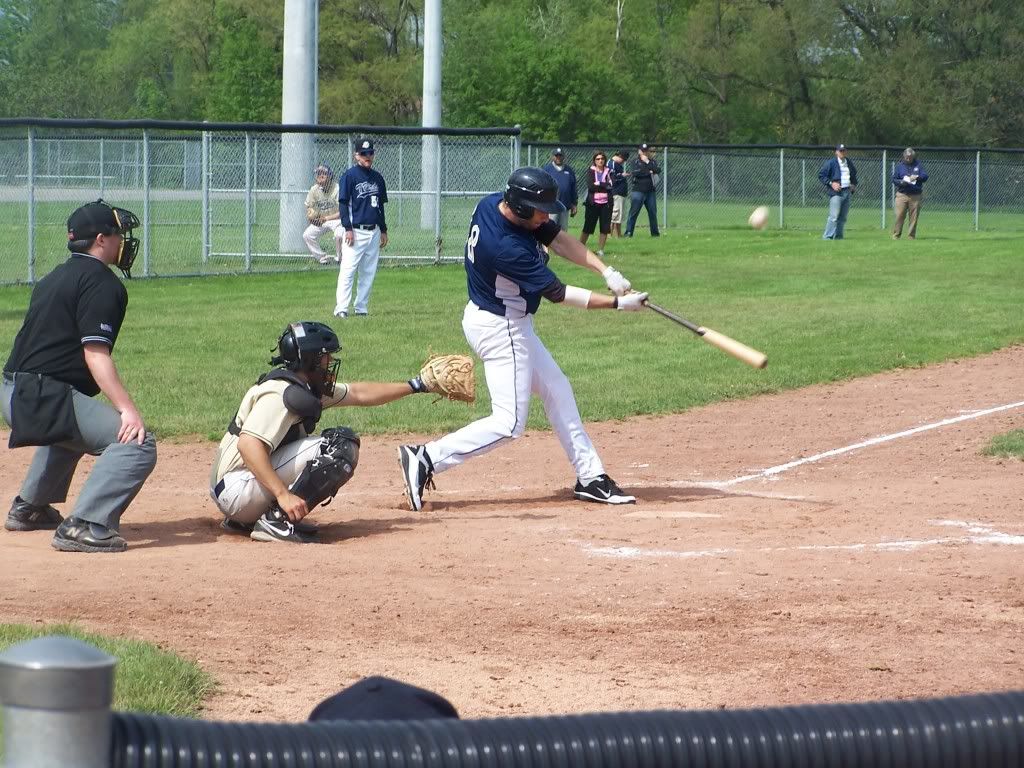 The Hamilton Thunderbirds travelled to Burlington Saturday afternoon and came home with a victory, their first of the season.
Today's game was a rescheduled game with the original rained out two days previous. The Thunderbirds would hit two home runs through the game and win the contest 8-3 with Ryan VanSpronsen picking up the win.
Chris Piano started the game off on the right foot with a single to right field. Two batters later Darnell Duckett would do the same, putting Piano on third. With Dan Jagdeo at bat, and runners on the corners, Duckett made an attempt to steal second and, on a bad through by the catcher, advanced to third on the play. Chris Piano crossed the plate to give the Thunderbirds an early 1-0 lead.

Dan Jagdeo would then slam a pitch over the fence for a two run shot to give Hamilton a 3-0 lead after the top of the first inning. Burlington would get one run back in the bottom of the 1st as Steve Coates crossed the plate thanks to a stand up double from Branson Joseph.
The Thunderbirds got another run in the top of the third inning. Mike Gottschalk started things off with a double, then advancing to third as Duckett was thrown out at first. Dan Jagedo came to bat and sent Gottschalk home hitting an RBI single. Hamilton left the third inning with a 4-1 lead.
The bats would come out swinging again in the forth inning. Warren Bradley got to base on balls followed by Graeme Carey who would tap a single to the outfield. Next Chris Piano would come up to the plate and slam a homerun over the left field fence to give the Hamilton Thunderbirds a 7-1 lead after four innings of play.
Burlington would score a run in the bottom of the eighth inning and the teams would both trade runs in the ninth, but Hamilton held on to win their first game of the season.
The Thunderbirds scored eight runs on eleven hits, including two home runs.
Hamilton returns home to Bernie Arbour Stadium to host the Barrie Baycats (4-0) tomorrow afternoon at 2pm. This will be the second meeting of the two clubs with Barrie winning the previous matchup 11-3. Barrie is currently undefeated this season and are hot off back to back wins today in their double header vs Ottawa.
Adult tickets to all Thunderbirds home games are just $5 and are available at the box office on game day.
Go Thunderbirds!