Renewal is a Two-Way Street
York Boulevard is in the middle of a renewal which will not only beautify the roadway and surrounding pedestrian sidewalks, but will also see the roadway converted to two way traffic.
May 31st of this year saw the start of the beginning of this construction. Scope of the work (PW-10-06(HW)) includes watermain installation, roadway resurfacing, sidewalk reconstruction, two-way conversion, decorative street lighting and pedestrian illumination from Queen St N to James St N. The project is due to be completed in october.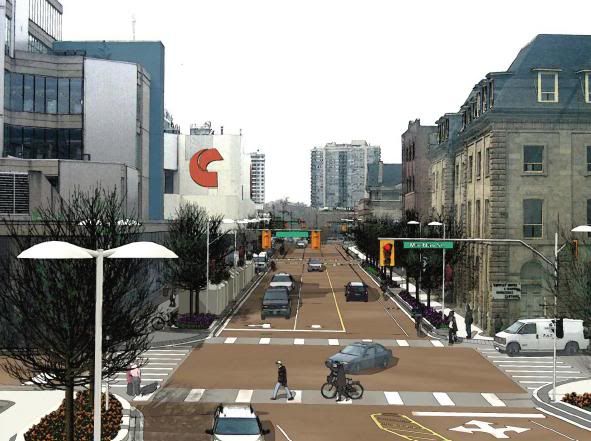 The York Boulevard Streetscape Master Plan, which was officially adopted January 27, 2010, goes over in detail the plans for the area between Bay and James with artist rendering of the proposed final design. Below is a snippet of some of the plans:
- widened pedestrian sidewalks
- raised planters with greenery and trees
- decorative sidewalk and street lighting
- curbside dedicated bike lanes in both directions
- two lanes of eastbound through traffic
- one lane of westbound through traffic
- redesigned Hamilton City Centre bridge over the roadway
- removal or empty fitness building and construction of stairway to Jackson Square
- curbside parking for Copps Coliseum event trucks will be maintained as will space for taxi stops and bus stops along the roadway

Some are voicing concerns regarding the conversions of one-way streets in the downtown core to two-way streets. Some of the busier of these streets (King, Main, York, Cannon) are used to funnel traffic through the downtown. At the same time the exact opposite concern was made
back in 1956
when the streets were first converted to one-way streets. I think if done right it could work. We'll have to wait and see what happens.
Resurfacing and conversion to two-way traffic is also being undertaken as a separate project on Wilson St from James St to Victoria Ave. Additional information on that project is still forthcoming.